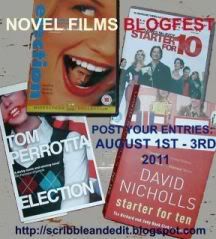 How many works of fiction have you seen BOTH the film/TV drama and read the original book, play or comic story? That's the question (blogfest) that
Madeleine
is asking! It's not too late to hop on over to her blog and join in the fun. I'm sure I missed a bunch here, but this is my list nonetheless:

Alice in Wonderland
(Book was great, Cartoon was great, Recent movie was great – what can I say, it's hard to screw up a great story)
Angels and Demons
(Good book, Good movie)
Bless the Child
(My all time favorite book ever! Worst movie in the world! Actually, had I seen the movie first I may have liked it, but it shouldn't have even associated itself with the novel, one had nothing to do with the other.)
Hamlet
(Meh to both the movie and the book)
Interview with a Vampire
(Ok this is tough… so much eye candy in the movie, but it just didn't measure up to the depth of the book. But let's face it, there was way too much detail to fit into two hours.)
MacBeth
(Meh to both the movie and the book)
Marley and Me
(Yeah umm… I watched the movie and read the book during a very rough time… so no comment, except I won't be watching or reading this again)
Memoirs of a Geisha
(Good movie, better as a book.)
Nancy Drew?
(read a ton of the books as a kid, watched the movie as an adult.)
Romeo and Juliet
(Book has far exceeded any of the movies, and it was my least favorite Shakespeare story)
That was Then, This is Now
(Don't really remember, but I think I loved both)
The Da Vinci Code
(One of my favorite books, the movie was really good too, though it lacked the power of the novel)
The Five People You Meet in Heaven
(Book was better, but movie was quite good)
The Green Mile
(Read the books, then the script, and then watched the movie. All were fantastic!)
The Hitchhiker's Guide to the Galazy/Universe
(Book/s rocked! Movie was crap.)
The Hobbit
(Umm… cartoon movie, I liked the book better)
The Lovely Bones
(Movie and book both confused the hell out of me, though I read it shortly after my sister's murder, and I think I was looking for answers that couldn't be found. So I'm a little biased on this one)
The Outsiders
(Both were excellent, but I did read and watched this when I was quite young)
The Secret Garden
(Great book, good movie)
The Secret Life of Bees
(Good book, decent movie)
The Twilight Series
(Enjoyed both books and movies immensely, yes I'm THAT girl)
To Kill a Mockingbird
(I was too young for both to remember)
True Blood / The Sookie Stackhouse Series
(Awesome book series, LOVE the show even more… MMmmm Eric…)
Currently reading The Divine Secrets of the Ya-Ya Sisterhood, I know the movie almost by heart.
On the other end of the spectrum, I've read The Girl with the Dragon Tattoo, but I haven't seen the movie yet. (I didn't like the book, so not much gusto to watch the movie)